A very Happy New Year 2023 to you! We kick off the year by presenting you Quantifeed's portfolio of the month- an exciting strategy highlighting the Greater Bay Area. This strategy encompasses the development and integration of the two Special Administrative Regions (SAR) of Hong Kong and Macau, together with the nine municipalities of Guangzhou- Shenzhen, Zhuhai, Foshan, Huizhou, Dongguan, Zhongshan, Jiangmen and Zhaoqing. This is also known as the Greater Bay Area.
The strategic development of the Greater Bay Area, as set out in China's Outline Development Plan, aims to deepen cooperation and economic integration of Guangdong, Hong Kong and Macau. It has a population of over 86 million people, and a GDP of USD 1.6 billion as of 2020 (Source). Further integration will leverage the advantages of the three regions with the aim of developing a first-class region that's ideal for living, working and travelling. This vision sees the Greater Bay Area on par with San Francisco, New York, and other examples of successful bay area economies.
Selection method
This strategy used price momentum in its selection of the top five stocks. It is expected to capture the dynamics of economic growth in the region, its deepening reform, and accelerated connectivity. We identified companies with at least half their revenue sourced from the Greater Bay Area, then selected five companies with the highest price momentum over the past three months.
We selected Hong Kong-listed large cap stocks (with a market capitalisation of greater than HKD 500 million, daily liquidity greater than HKD 5 million over the last six months, and covered by at least six equity analysts with aggregate rating from hold to buy), and company geographical segmented revenue from the Greater Bay Area greater than 50%.
To place more emphasis on the most recent price gains, we defined price momentum as the average percentage of each month's price increase (over three months). The strategy rebalances quarterly and the selection can be expected to turn over frequently. This portfolio's low minimum investment amount means it facilitates small investments.
As of 3rd January 2023, the return of the strategy over the last 12 months was 51.3% compared to -20.3% for the US equity market.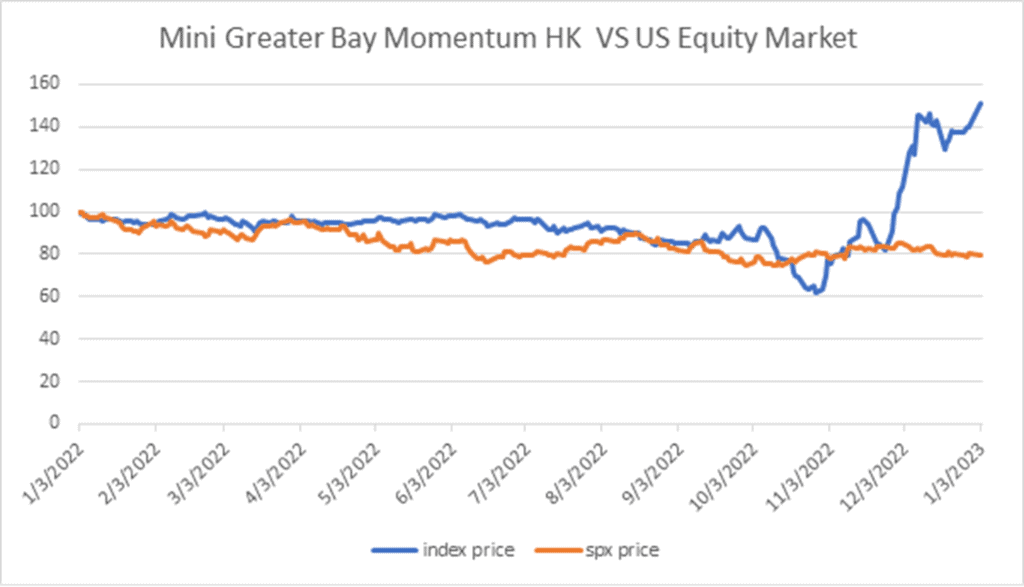 Quantifeed's expertise lies in simplifying complex investment strategies and offering investors exposure to some of the most exciting investment portfolios in the world. Subscribe to our newsletter for more insights on portfolio development and management.
Learn more about what we can do for your wealth management business.