We are excited to share with you the portfolio of the month from Quantifeed – China Consumer HK. This strategy has been a top performer over the last six months, outpacing the Hong Kong equity market as well as the Consumer Discretionary and Consumer Staples sectors.
As per recent reports, China's consumer spending has been steadily recovering from the pandemic-related slowdown. In fact, retail sales in China have already surpassed their pre-pandemic levels, indicating a strong rebound in consumer confidence. This trend is likely to continue, especially as China's middle class continues to expand and demand for higher-quality goods and services increases. As such, investors who are looking to tap into this growth opportunity may want to consider adding Chinese consumer sector stocks to their portfolios.
Selection method
Our China Consumer HK strategy selects stocks from sectors such as beverages, casinos and gaming, department stores, jewellery stores, and restaurants, which are expected to benefit from the performance of China's consumer goods and services market.
We consider Hong Kong-listed stocks that are covered by at least six equity analysts with aggregate rating from hold to buy, market capitalisation greater than HKD 800 million and daily liquidity greater than HKD 40 million. Then we identify if the stocks are belonged to sectors that are related to consumer goods and services.
To place more emphasis on the most recent price movement, we filter out stocks that have declined more than 20% over last month. In each consumer sector, at most two largest stocks by their market capitalization are selected.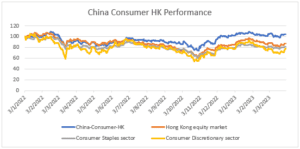 As of 31st March 2023, the six month return of the strategy is 20.8% which outperforms the Hong Kong equity market which has return of 18.5% during the same period. The strategy also outperforms the Consumer Discretionary and Consumer Staple sectors which has six month return of 11.6% and 6.7% respectively.
Quantifeed's expertise lies in simplifying complex investment strategies and offering investors exposure to some of the most exciting investment portfolios in the world. Subscribe to our newsletter for more insights on portfolio development and management.
Learn more about what we can do for your wealth management business.