This edition of Quantifeed's Portfolio of the Month highlights top ten dividend winners from US-listed stocks. This portfolio of high-yielding stocks has a strong track record of stable or growing dividends that can capture income and performance in the US market.
We looked at the sample pool of US-listed stocks (excluding ADRs) with a market capitalisation greater than USD 30 million, daily liquidity greater than USD 5 million over the last six months, and covered by at least six equity analysts with aggregate ratings from hold to buy.
We then remove stocks with negative earning per shares (EPS) over the last 12 months and negative EPS growth rate in the last fiscal year. To identify growing and sustainable dividend paying stocks, we select stocks with positive dividend yield growth over the last ten fiscal years and dividend yields of less than 10%. Finally, we select the top 10 stocks by their dividend yield.
Dividend paying stocks have historically produced significantly higher total returns than other non-dividend paying growth stocks. As of 24 Jun 2022, the return of the strategy over the last six month is 8.5% compared to -18.4% for US equity markets. The one-year volatility of the strategy – a proxy for its short-term risk is 18.6%, compared to 19.75% for US equity markets.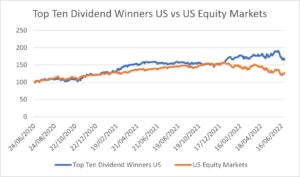 Quantifeed's expertise lie in simplifying complex investment strategies and offers investors the exposure to some of the most exciting investment portfolios in the world.
Learn more about what we can do for your wealth management business in Asia and beyond.