In celebration of Pride Month, Quantifeed invited Alex See, Director of Fundraising for Pink Alliance Hong Kong to share his experience and work promoting LGBTQ+ rights. Pride Month empowers those in the LGBTQ+ community and promotes diversity and inclusion in daily life and in the workplace. Alex also gave
Pink Alliance is a non-profit LGBTQ+ organisation, whose mission is to advance dignity, acceptance and equal rights for people of different sexual orientations and gender identities in Hong Kong through community engagement and public education.
Pink Alliance is run solely by volunteers, ranging from professionals across various industries. The organisation comes together to push for equal rights for people of different sexual orientations and gender identities through events, campaigns, and lobbying.
Alex facilitated an open session where Quantifeed team mates from all around the world were given the opportunity to share, ask questions, and bond. Global team mates came together for a time of sincere learning and listening. Here are 3 key learnings from the intimate session.
Embrace Corporate Diversity and Inclusion
Individuals and companies must learn to understand the biases we may have and remove them. In order to truly be inclusive, we must walk the talk. Whether during hiring, speaking with clients, or promoting a culture within the organisation, diversity must to be embraced, not branded. In order to create and cultivate a safe space, simply show each individual respect in every aspect of life. When diversity, equality, and inclusion is internalised, branded support strengthen naturally.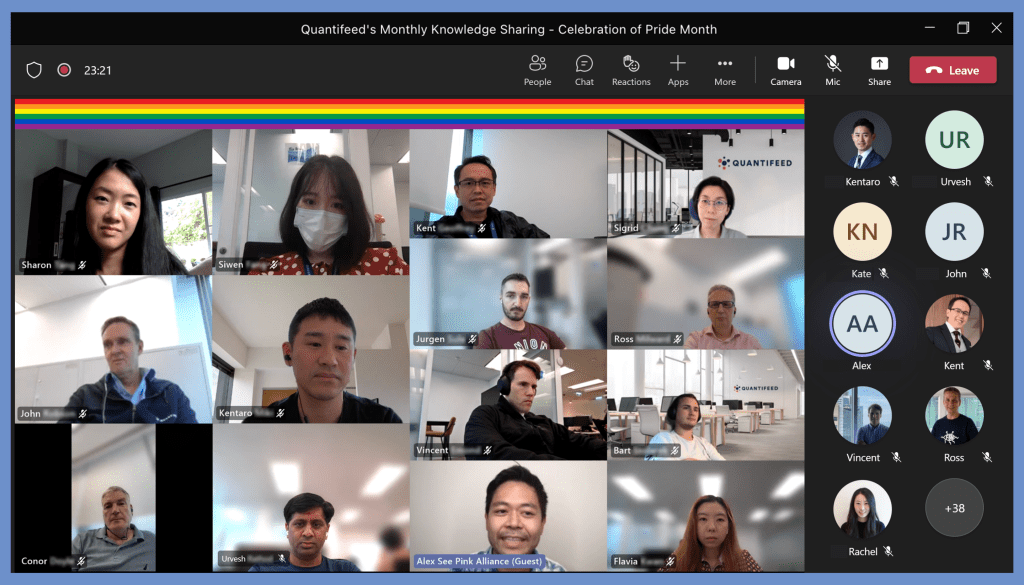 Continuous Education and Openness Help Us to be Allies
The importance for everyone to be open and receptive of the struggles and challenges of those in the LGBTQ+ community. Pink Alliance provides multiple resources and organises events that promotes understanding and education on how companies and individuals can be supportive and inclusive. Alex See shared, "Coming together and being committed to learn more is a big step towards the right direction. Small talk and genuine care and concern shows such support".
There is Hope
While many in the global LGBTQ+ community may still feel unrepresented, many in our team believe that there is hope. Societies and communities are transforming, evident in the changes seen in conservative countries like Ireland, the first nation in the world to legalise gay marriage. In 2020, The US Supreme Court has also ensured job protection for the community, where no one can be fired or denied a job over their sexual orientation or gender identity. More people are learning to be allies through a deeper understanding for those in the LGBTQ+ community.
Alex See shares, "There's no right or wrong way to give support. What's important is to show care for one another. Do we care about what's happening in their life? Care isn't limited to their sexuality, but any and all aspects of their life".
Quantifeed supports an open, honest, and collaborative culture in all our offices. We strive to be more inclusive and empathic in our day-to-day, supporting our mission in providing wealthcare for everyone!