In this edition of Portfolio of the Month, we highlight an exciting strategy on solar power using US-listed companies. Solar power is a form of renewable energy that is efficient and clean. It's a source of power growing in popularity and usage globally, especially in light of recent climate change.
The world is currently going through an energy crisis due to war, inflation, and resource shortages. Across Europe, everything from coal to wood is scarce. The EU imports expensive liquefied natural gas from Qatar and the US, sending electricity and heating prices to all-time highs. (Source).
As a result, demand for renewable energy like solar power is skyrocketing. Numerous solar panel suppliers are struggling to keep up with this demand as inquiries surge. More and more households and businesses are embracing solar energy as a way to keep energy bills manageable.
In the US, solar power has experienced an average annual growth rate of 33% in the last decade alone. Thanks to strong federal policies, rapidly declining costs, and increasing demand across the private and public sectors for clean energy, there are now more than 130.9 gigawatts (GW) of solar capacity installed nationwide, enough to power 23 million homes. (Source)
In creating the Solar Power US investment strategy, we define a selection universe of US-listed stocks operating in the solar power industry with a market capitalisation greater than USD 50 million and daily liquidity greater than USD 2 million. We only include companies that are covered by at least six equity analysts and with an aggregate rating of hold or above. We then select the largest stocks by market capitalisation up to a maximum of 30.
The global solar energy market was valued at $52.5 billion in 2018 and is projected to reach $223.3 billion by 2026, growing at a CAGR of 20.5% from 2019 to 2026. As of 10 October 2022, the return of the strategy over the last six months was 16.3% compared to a decline of 18.1% for the US equity market.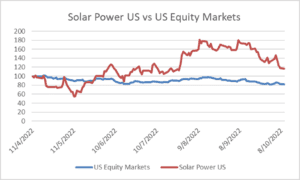 Quantifeed's expertise lies in simplifying complex investment strategies and offers investors exposure to some of the most exciting investment portfolios in the world. Subscribe to our newsletter for more insights on portfolio development and management.
Learn more about what we can do for your wealth management business in Asia and beyond.