Self-driving cars or driverless vehicles is a concept true to its name. It is a new capability and service that is already operational in certain parts of the world today. Its technology is advancing daily, and while fully driverless cars aren't available for the everyday consumer just yet, it's only a matter of time before it fully hits the streets.
Driverless vehicles could see a huge reduction in driver-errors, and could reduce motor vehicle accident rates by over 50%. They also lead to a more inclusive society as some individuals, such as the disabled or elderly, could be served through this technology and enjoy higher mobility. Its impact on the ridesharing economy – not to mention healthcare and insurance – will also cause major shifts in years to come.
Self-Driving Cars Starting Trials
Leaders of the industry include Alphabet's Waymo subsidiary and General Motors' Cruise. Both have started test vehicles of their own in the United States. Waymo has already been testing cars without safety drivers in the city streets of Phoenix, Arizona since 2017. Other motor companies are rushing to reach this capability and keep up with the competition despite lack of government clearance for driverless vehicles on the road. Other cities in the US where you might spot driverless cars include San Francisco, Austin, and New York. In fact, the entire auto industry globally is seeing a massive transformation on account of major collaborations and partnerships with technology companies due to AI and automation.
Profit-potential of Driverless Cars
The production of driverless vehicles may seem like the end-goal, but applications of the technology are endless. Autonomous ridesharing businesses have shown to have multibillion-dollar potential in this space. Initial calculations on the profit potential is made up to be about $32.3 billion in revenue annually in the US over the next decade.
The demand for greater mobility and smarter vehicles that enable a convenient driving experience has been on an incline. According to Allied Market Research, the global autonomous vehicle (AV) market is projected to rise from $54 billion in 2019 to $557 billion by 2026, a CAGR of nearly 40%.
Quantifeed's Portfolio of the Month
The Self-Driving Cars US Strategy consists of technology firms engaged in pioneering some aspects of self-driving cars, car manufacturers or car part suppliers who are committed to putting self-driving cars on the road. We select technology and car manufacturing stocks that are central to the theme of self-driving cars according to a range of various sources. To improve the strategy's risk/return profile, we weigh stocks by the inverse of their volatility, such that high volatility stocks receive a lower weight than low volatility stocks.
As of 17 Dec 2021, the annualized return of the strategy over the past two years is 47.6% compared to 20.4% for US Equities. The one-year volatility of the strategy – a proxy for its short-term risk – is 34.2%, compared to 19.5% for US Equities.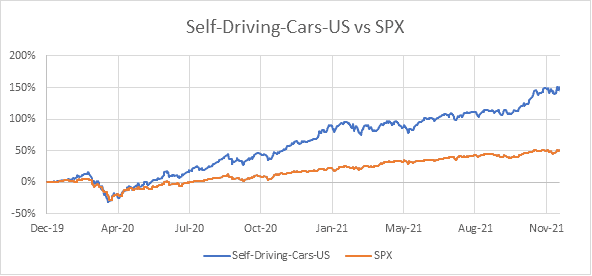 Quantifeed's expertise lies in simplifying complex investment strategies and offers investors the opportunity to invest to some of the most exciting tech themes in the world today. Subscribe to our newsletter for more insights on our portfolio R&D.