Cloud computing, the service that helps enterprises use remote servers hosted on the internet to store, manage and process critical data is an up-and-coming growth sector in tech. Cloud computing helps to reduce costs, increase efficiencies, and scale conveniently. It is readily available to anyone who uses a computer or mobile device at home or at work.
Some of the growth drivers for this technology include digital transformation as we see the pandemic change the way organisations work, a surge in internet and smart device penetration globally, and big data consumption in various verticals. Increasing adoption of 5G and Artificial Intelligence (AI) is expected to further support the market growth for cloud computing.
The impact of cloud computing can be seen across various industries and day-to-day living. We see banks progressing by moving their banking applications onto the cloud, government agencies acting via cloud, operations, as well as entertainment and home management systems delivering services direct from the cloud.
The Top Ten Cloud Computing US Strategy is designed to provide exposure to long-term economic growth in the cloud computing segment. We identify cloud-based software companies by their description and industry classifications, and then select the ten largest
companies as measured by market capitalisation. To improve the selection's risk adjusted return, we overweight stocks with lower volatility. According to a study by Grand View Research Inc, the global cloud computing market size is expected to reach USD 1,251 billion by 2028, registering a CAGR of 19.1% over the forecast period.
As of 5 Nov 2021, the year-to-date return of the strategy is 30.0% compared to 26.0% for US Equities. The one-year volatility of the strategy – a proxy for its short-term risk – is 17.6%, compared to 12.4% for US Equities.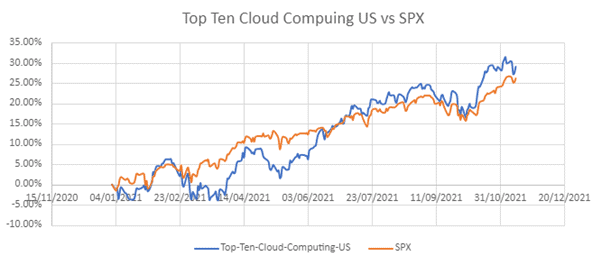 Quantifeed's expertise lie in simplifying complex investment strategies, and offers investors the exposure to some of the most exciting investment portfolios in the world. Subscribe to our newsletter for more insights on investment strategies, portfolio development and management.