Speed, scale, and productivity is key to the success of digital wealth management propositions. How fast can you reach one million customers? How quickly can you launch a new product or feature? How will you stay ahead of competition? Changes are happening now and happening fast. One way to accelerate your digital transformation is to explore the use of container technology.
According to Docker, a popular container software, "a container is a standard unit of software that packages up code and all its dependencies, so the application runs quickly and reliably from one computing environment to another." The environments in question could be from one developer's laptop to another, a staging environment into production, or from a physical machine in a data center to a virtual machine on a private or public cloud.
When businesses bring on a capability (to enable a digital wealth management service or solution for their customers), it is not always as straightforward as buying the product and getting it to work. Problems usually occur when there is an incompatibility between host and guest software, differences in network topology, or security policies that do not align. A container solves this by packaging the entire runtime- the application (plus all its dependencies), libraries and other binaries, and all configuration files needed to run it. By containerising (or isolating) the application platform, differences in underlying infrastructure can be negated, making it as simple as 'plug and play.'
Why Use a Container?
Speed
Containerised applications are lightweight and can boot up in seconds. Creating, replicating, or destroying containers can happen just as quickly. This speeds up development and operational momentum, and reduces time to market. Releasing new enhancements, products or bug fixes is also quicker, leading to stronger customer experiences.
Size 
Containers are typically small. Because of this, they are easily compacted to fewer
physical hosts than traditional server infrastructure. Many more instances of the application can fit on one machine. Containers use underlying hardware from their host, leading to low bare metal and data centre costs.
Isolation
The isolation of applications using a container enables organisations to run them easily and reliably on different environments, such as local desktop, physical servers, and cloud. This portability gives developers flexibility, as it quickens the development process and enables them to write applications in the language of their choice and makes it easy to switch between environments. Isolation also ensures continuity, so if one application crashes, it does not affect other containers running the same application.
Productivity
A container-based infrastructure offers multiple productivity benefits. The elimination of environmental inconsistencies makes testing and debugging less complicated and time consuming. This allows developers to focus on developing new features and creating solutions that improve the user experience, functionality, and competitive advantages of the application. When developers are not busy debugging or fixing problems, they have more time to be creative and productive!
Scalability
Another major benefit of using containers is that they offer immense capability for scaling. This is made possible because it is easy to replicate containers in multiples and support more load at efficient rates. Replications or reductions can be executed on demand, meeting the needs during peak or idle periods- saving costs. This translates to reaching more customers without jeopardising performance or losing efficiency and reducing redundancies. It eliminates the need to invest significant resources into growing or adapting your business.
Containerisation is not a new idea; in fact, it has been around for decades. It is however the latest and most beneficial way for digital wealth management providers to adopt modern technology to stay competitive. It may be the answer to many of the questions you are grappling with in relation to your wealth business.
Quantifeed's Digital Wealth Management Offering
Containerisation is just one of the ways Quantifeed stays ahead of the game. The packaging of our applications and software allows for our technology to immediately run and start working. Quantifeed's QEngine has the capability to fully support your business needs. No matter the existing infrastructure, it can be deployed anywhere. QEngine is supported across multiple cloud platforms, OSs, and DBs with VM as well as Kubernetes container support.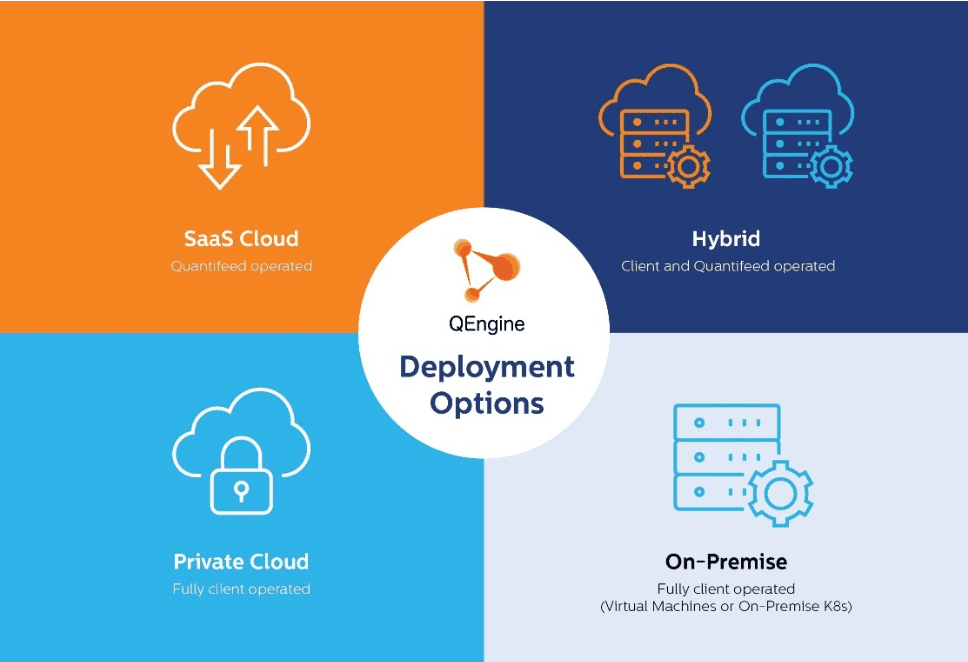 QEngine is built to accelerate wealth management businesses by providing a delightful way for investors to gain access to wealthcare. We understand customer pain points, support complex back-end functions, and are proud to present proven digital wealth management solutions.
Quantifeed offers an end-to-end solution that enables you to grow your customer base and revenue. Our modular technology supports multiple investment journeys and integration with your existing systems. We cater to complex data, security and compliance requirement with the flexibility to rapidly adapt to your organisation's modernisation plans.
To know more about Quantifeed's proprietary technology, visit www.quantifeed.com/tech. To know more about Quantifeed's wealthcare solutions, read our use cases at https://www.quantifeed.com/clients.