The Singapore Fintech Festival 2022 (SFF) kicked off on October 31, 2022 at the Singapore Expo. This year's event, themed "Building Resilient Business Models amid Volatility and Change", saw over 850 expert speakers, a total of 2,000 organisations and over 250 hours of content at one of the world's largest annual FinTech events. It also hosted 25 international pavilions and 450 exhibitors at the exhibition hall.
The conference focused heavily on central bank digital currencies (CBDCs), tokenisation, green FinTech, sustainability, and data sharing. Singapore policymakers and government officials took the opportunity to announce exciting partnerships, disclose new FinTech developments, and share updates on their ongoing FinTech projects.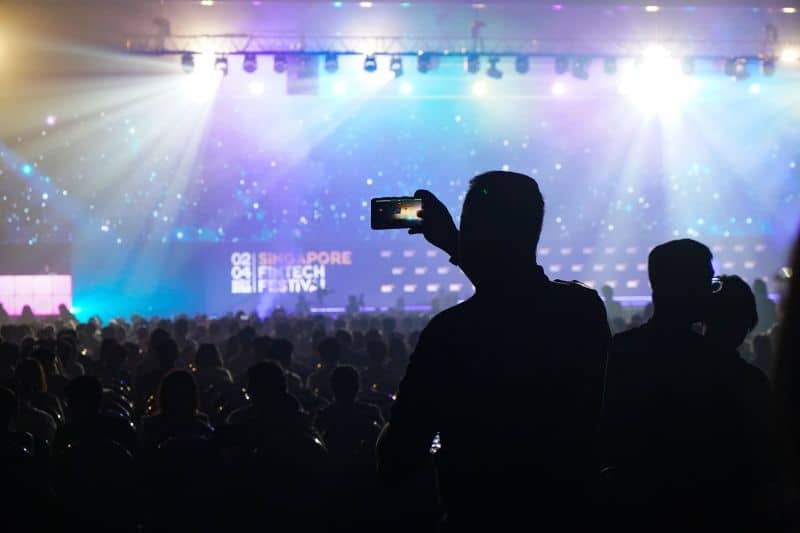 MAS Announces S$150 Million Commitment
Lawrence Wong, Deputy Prime Minister and Minister for Finance, and Deputy Chairman of the Monetary Authority of Singapore (MAS), announced that the central bank will provide a third tranche of funding for the Financial Sector Technology and Innovation (FSTI) scheme, with a fresh commitment of S$150 million for the next three years.
Wong said MAS will maintain focus in key areas including artificial intelligence (AI), analytics, RegTech and cybersecurity. New focus areas will also be added such as environmental, social and governance (ESG) FinTech and innovation challenges will be rolled out. They will also support the next generation of Centres of Excellence with the development of tools to support emerging domains such as Web 3.0.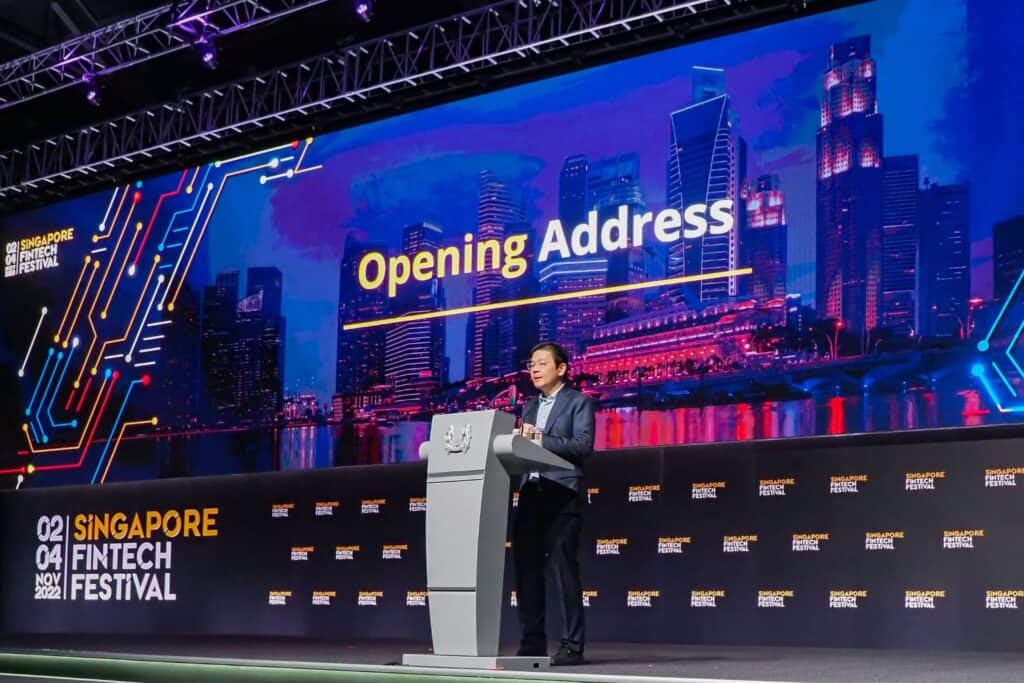 Singapore's Top Five FinTech Focuses
On the second day of the conference, Ravi Menon, Managing Director, MAS, delivered a keynote speech that outlined the five key outcomes Singapore wished to achieve through its numerous FinTech initiatives: instant remittance, sustainability data, programmable money, atomic settlement and tokenized assets.
Instant remittance aims to facilitate seamless cross-border payments. Linkages across Singapore's real-time payment systems with PayNow, Thailand's PromptPay, along with near-completion linkages with India's Unified Payments Interface (UPI) and Malaysia's DuitNow. MAS is also working with the Bank for International Settlements (BIS) Innovation Hub to realise a multilateral network of payment linkages across ASEAN.
The second ambition, trusted sustainability data, is achieved through Project Greenprint. Project Greenprint aims to develop a vibrant green FinTech ecosystem by scaling green FinTech solutions beyond Singapore, drive partnerships and collaboration across the financial sectors and its stakeholders, and facilitate trusted ESG data flows by ensuring consistent, clear, and reliable ESG data from global and sectoral platforms between the financial sector and the real economy.
Learn more about Menon's presentation here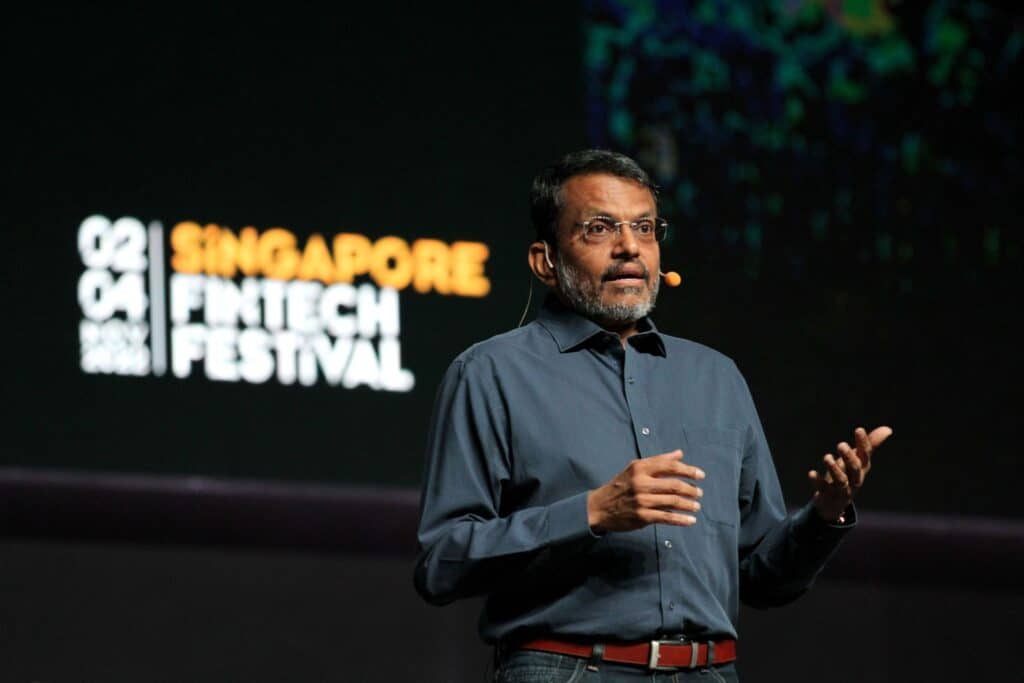 Singapore and China Strengthen Cooperation in Green Finance
New initiatives were announced by MAS on November 1, focused on expanding cooperation in green finance and deepen capital market linkages with China.
The initiatives include:
The China-Singapore Green Finance Taskforce:  Focusing on deepening bilateral cooperation in green finance and facilitate greater public-private sector exchanges, the taskforce explores collaboration in areas such as standards and definitions, green and transition financing solutions, and data and technology enablers. This will catalyse green financing flows and enhancing green investment opportunities in China and the region.
The Exchange Traded Funds (ETF) Product Link: SGX and the Shenzhen Stock Exchange (SZSE) will launch three new ETFs by year end via the ETF Product Link. This will allow investors in China and Singapore to access ETF investment opportunities in each other's markets.
The Low Carbon Index Family: The SGX, Shanghai Stock Exchange and SZSE will joint launch a Low Carbon Index Family by year-end. This will serve as a benchmark for fund managers to launch new green funds focused on China, ASEAN and other countries in Asia, raising investor interest in green investment opportunities in the region and channel capital towards the region's leading sustainable firms.
Winners of the Singapore FinTech Festival 2022 Global Fintech Awards and Global Fintech Hackcelerator
Winners of the annual Global Fintech Hackcelerator and Global Fintech Awards were awarded on November 4. Winners were recognised for their innovative solutions that allow for accelerated digitalisation, innovation and sustainability in the financial industry.
Winners include FQX, Norbloc and WeavAir. Swiss-based FQX offers an infrastructure that provides on-chain settlement of tokenised debt securities; Swedish-based Norbloc provides a digital onboarding platform that covers the whole know-your-customer (KYC) lifespan; and WeavAir, from Singapore, combines AI analysis with new data sources like satellite imagery to gather accurate and real-time ESG data.
This year's awards, themed "Embracing Digital, Charting the New Normal", recognised a total of 36 winners across nine award categories. Click here to see the list of winners for the SFF Global FinTech Awards 2022 presented by MAS and SFA.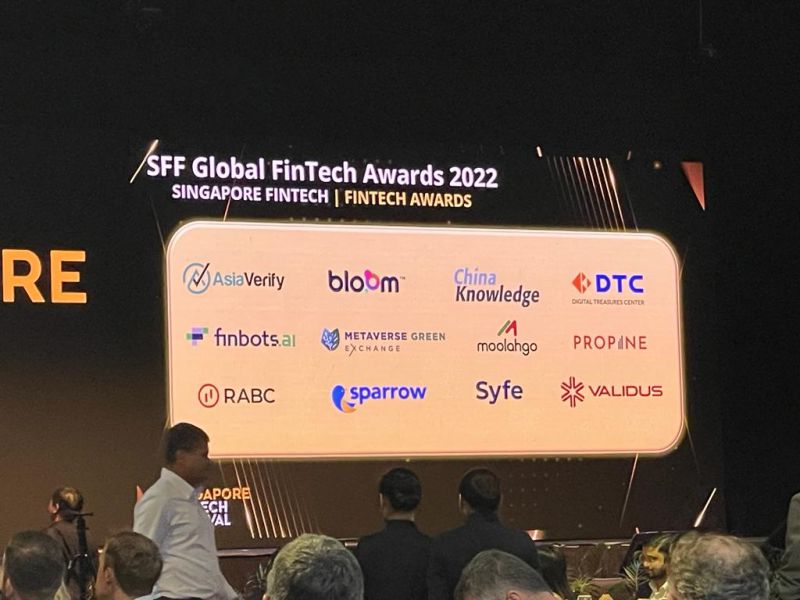 Mr Sopnendu Mohanty, Chief FinTech Officer, MAS, said, "We are very encouraged by the innovative, cutting-edge solutions presented by the winners and finalists of this year's Global FinTech Hackcelerator and FinTech Awards. Our heartiest congratulations to all the winners of the Global FinTech Awards!"
Mr Shadab Taiyabi, President of SFA, said, "Through the Global FinTech Awards and the Global FinTech Hackcelerator, we  celebrate and give recognition to individuals and enterprises that make positive impact on the FinTech ecosystem."
The buzz surrounding the Singapore FinTech Festival 2022 signalled a great welcome for in-person events after three years of virtual gatherings. Quantifeed was glad to be a part of the energetic gathering of industry leaders and participants. We had a great time meeting with clients, partners, and friends from all over the world and can't wait for next year!
Interested to know more about what Quantifeed's QEngine can do for your wealth management business? Get in touch to learn more! For more information on Quantifeed, follow us on LinkedIn. Sign up for our newsletter below to keep up to date with the latest news on digital wealth management in the region.